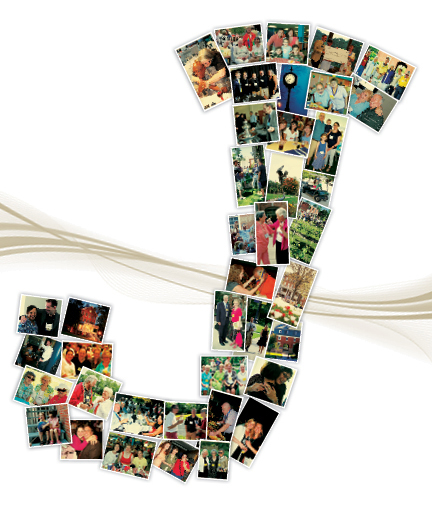 Alumni Weekend 2017
Nearly 550 alumni, friends, family, students, faculty, and staff from all generations celebrated Juniata's rich traditions and got a preview of coming attractions during Alumni Weekend June 1-4.
Highlights included diverse and engaging Alumni College classes, reunion class gatherings, award ceremonies, a lively All Class Celebration, the Saturday picnic lunch held under a huge tent on the Quad, and an interactive question and answer session with President Jim Troha and his Senior Leadership Team where guests learned about the progress of curricular initiatives and the competitive college enrollment landscape.
The 50th reunion class, the Class of 1967, made history with a record breaking 77 classmates attending their class reunion and giving the largest class gift in the history of the College. The gift totaled more than $4 million, a portion of which established The Class of 1967 Endowed Scholarship. One hundred and five classmates (57% of the class) donated to the class gift.
Reunions were also celebrate by the Classes of '57, '62, '72, '77, '82, '87, '92, and Emeriti alumni. Check out the video highlights from the weekend.
The annual Alumni Association Awards were presented to Karen V. Beck '93 (Alumni Service), Howard M. Nathan '75 (Alumni Achievement), Elena A. Long '06 (Young Alumni Achievement), and Michael D. Johnston '77 (Alumni Humanitarian). Learn more about the five amazing Alumni Award recipients and watch the video of their moving award presentations and acceptances.
Special thanks to all of the reunion volunteers, alumni volunteers, and Juniata staff who gave their time to make Alumni Weekend memorable! And, thanks to everyone who attended the big event. How was your weekend? Let us know by completing the Alumni Weekend Survey.
Join us next year at Alumni Weekend on June 7-10, 2018.
Don't want to wait until next year to come back? Homecoming and Family Weekend 2017 is Oct. 6-8. With plenty of fun events and family-friendly activities, it's a perfect time to visit. Classes of '97, '02, '07, '12 and '17 will celebrate reunions, too. If your reunion is coming up and you would like to work with your reunion committee, please contact Katie (Padamonsky) Dickey '97 by e-mail or call the Alumni Office toll-free at 877-JUNIATA (586-4282), select option 9, then 2.
To learn more about other upcoming events, visit the Calendar of Events.
Future Alumni Weekend Dates
June 7-10, 2018
June 6-9, 2019
June 4-7, 2020